The First Rule of Adventure: Failures are Never Failures
Story and Photography by Eric Larsen
They were hard questions to receive: "How do you know when to pull the plug on an adventure?" "What do you learn when you come up short?"
I think that both of these topics are relevant, interesting and worthwhile; however, the timing of the inquiry—a few weeks after I returned from a "failed" expedition in Antarctica wasn't a coincidence. While not the intent at all, the bluntness of the request minimized the effort that goes into any big expedition successful or not and I couldn't help but feel a little regret at an expedition dream not realized. I wrote a quick email in reply, "These topics make me sad."
Of course, I wasn't that sad. In fact, I was feeling pretty good, actually. But more importantly, a little back story.
For several years, I had been thinking about making an attempt on the speed record for the Hercules Inlet route to the South Pole, a 700-mile route from the edge of the Antarctic continent to the Geographic South Pole. The record was set by a Norwegian in 2011, and ever since, I wanted to see if I could best the 24-day time. Having already led a prior expedition on the same route as well as several other expeditions to the South Pole, I felt I had the knowledge, experience, and physical ability.
In November of 2018, I flew to Antarctica, then the Hercules Inlet where I literally began racing to the South Pole. Unfortunately, after three weeks of struggle through unusually deep snow and warm temperatures, my progress was much slower than I anticipated. It was an all or nothing attempt with not much room for error and I was running out of food and fuel, so I pulled the plug. I quit.
It's not the first time I've bailed on a big (or small) expedition either. When I was I was 26 or 27, I tried to ride my bike around Lake Superior. I had some knee issues and had to turn around. My first big North Pole expedition was a big failure as well. We spent three years planning, preparing and fundraising. Then after huge send-off party, we flew to Russia with 23 bags in tow. After a week on the ice, the leader of the expedition ended our attempt.
In 2012, I tried to ride my bicycle to the South Pole. That didn't work out so well. There was also the time I turned around on Mt. Adams because of bad whiteouts, same thing on Shasta, but I can't even remember what year that was. Honestly, I have come up short so many times that I have lost count.
But the funny thing is, I don't really consider any of those big failures. The North Pole expedition in 2005 was a bitter pill, I'm not going to lie. But a few weeks after I got back from Russia, I was on an icebreaking ship off the coast of Greenland where I spent two months marveling at ice bergs, glaciers and whales. As for the others, there are so many variables that go into completing an expedition that success is never a guarantee.
It's hard to understand this when you just read the headline or look on the surface but there is so much that goes these kinds of expeditions—ones that push the leading-edge adventure. The margins are so small that it doesn't take much to tip the scales against you.
This year, the weather was terrible—warm and snowy. Had I been trying to do a longer crossing it wouldn't have been an issue. I can pull three times as much weight while traveling 10 or 15 miles a day. But to make 25 or 30 miles in that same timeframe requires ideal surface conditions. Antarctica is a desert and actual snow storms are a rarity. In all my prior expeditions, I've only experienced a light dusting of snow. This year it snowed for days and days and days, and in my opinion, is a direct result of unusual weather patterns caused by climate change. This was my sixth expedition in Antarctica over the past 10 years. I know an anomaly when I see it.
All my gear performed exceptionally well. My XGK stove that I've used on all my polar expeditions performed flawlessly, like I knew it would. All my gear choices were made based on the experience and knowledge of nearly 20 years of polar travel. If I were to go back tomorrow for another attempt, I would take exactly the same gear.
Sometimes, luck just isn't on your side and the biggest lesson learned from a trip like this is that failure only becomes something that defines you if you stop trying.
Polar adventurer, expedition guide and dog musher Eric Larsen is a pioneer of both the arctic and Antarctic. To date, he has completed more polar expeditions than any other American in history. Among those were the first-ever summer expedition to the North Pole, and a world-record expedition for reaching the South Pole, the North Pole and the top of Mt. Everest within 365 days. In 2014, Eric and Ryan Waters traveled unsupported across the frozen ocean from Ellesmere Island to the Geographic North Pole, in what realistically may be the last North Pole expedition in history. In 2015, Eric and Ryan completed the first ascent of Jabou Ri, a 6,000 meter peak in the remote Rolwaling region of Nepal. An educator at heart, Eric's goal is to connect people to the world's frozen places and how they are changing. His current no-shower record is 72 days.

---
PRODUCTS FEATURED IN THE POST

DynaLock™ Explore Backcountry Poles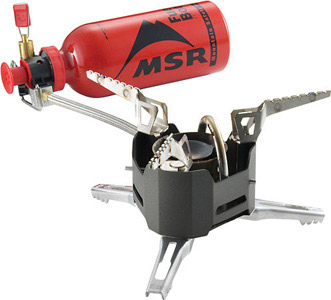 XGK EX™ STOVE