From rock climbing festivals to film tours and gear demos, MSR-supported events are a place to connect more deeply with the outdoor community. Whether you come to try new gear, celebrate our culture, or gain new skills, you'll meet likeminded individuals—gearheads, athletes and experts—who share your passion for adventure. So join us and get inspired to tackle a new objective or take your first steps into the unknown.

Stopping at 45 retailers and 8 festivals across the U.S., the tour is one of the most developed mobile education tours in the country, bringing deep outdoor adventure expertise to life. Backpacker Magazine's renowned brand ambassador, Randy Propster, travels the nation to inspire consumers and outdoor enthusiasts to get out more.
Find out more and see the full schedule at https://www.backpacker.com/news-and-events/get-out-more-tour-2018
Up to 80% off Retail – While Supplies Last! Includes new product, prototypes, samples, close-outs and misc. Cascade Designs products.
| | |
| --- | --- |
| 11/10 9:30am – 4:00pm | 3800 1st Ave S, Seattle, WA |
Uniting climbers around the campfire at world-class destinations, these special 3-day events celebrate all things climbing. From learning new skills and techniques, to sharing stories, sharing the rope and inspiring one another; from drinking beers and howling at the moon, to giving back and caring for our local crags, these events are the real deal: Climbing events for climbers, by climbers.
| | |
| --- | --- |
| 9/14-9/16 | Smith Rock, OR |
| 9/21-9/23 | New River Gorge, WV |
| 10/5-10/7 | Rumney, NH |
| 10/12-10/14 | Devil's Lake, WI |
| 10/19-10/21 | Shelf Road, CO |
| 11/2-11/4 | Bishop, CA |
Find out more and see the full schedule at https://americanalpineclub.org/craggin-classics-2/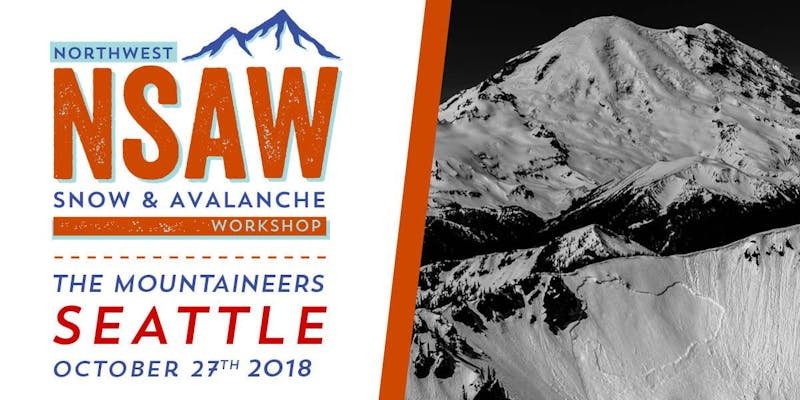 Join the Northwest Avalanche Center in the twelfth annual Northwest Snow and Avalanche Workshop (NSAW). NSAW is the region's largest gathering of snow and avalanche professionals and backcountry recreationists who work and travel in avalanche terrain.
Join us as the Northwest Avalanche Center brings together seasoned backcountry professionals along with outside-industry experts in an effort to provide tangible solutions to improve decision making in the backcountry. Each workshop will be an interactive experience probing deeper into our decision making process and learn new techniques to improve those decisions. Come prepared to participate and takeaway some valuable techniques for your next backcountry outing. Full schedule here.
MSR will be supporting the Utah Avalanche Center in 7 Wastach Backcountry 101 classes. Each course is lead by a U.A.C avalanche forecaster. Instructor teams are made up of local guides, ski patrol, and professional riders, all with years of experience teaching avalanche education. See full schedule here.
MSR will be supporting the Utah Avalanche Center's fall fundraising efforts. Come by, say hi and check out some great backcountry gear!
Mountains. Community. Inspiration. Challenge. That's what the Portland Alpine Fest is all about. It's a time for our community to join together to celebrate achievements, to be inspired by others, to learn new skills, and to push our own limits. 6 days of inspiration, learning, demos, and more as you immerse yourself in the world of all things alpine. There's ice climbing, rock climbing, mountain running, and much more. Presented by Grivel. Hosted by the Mazamas.
Teton Gravity's newest film Ode To Muir pairs professional snowboarder, adventurer and founder of Protect Our Winters Jeremy Jones with two-time Olympian Elena Hight as they embark on a 40-mile foot-powered expedition deep into California's John Muir Wilderness. Their journey balances the challenges of winter camping, grueling climbs up the Sierra's biggest mountains, and aesthetic first descents with personal reflections on the importance of the natural world and those who first traveled it generations ago, and sharing perspectives gleaned from what it truly means to explore a great American Wilderness. Full tour schedule here.
Think of this as a summer camp for grown-ups who love the outdoors. But instead of camp counselors, you and your friends will have expert guides and pro athletes showing you the ropes. Plus complimentary meals and nightly socials, open bars, fire pits, and live music. All expert instruction, classes, and gear for activities are included too. All you have to do is show up, relax, and have fun.
| | |
| --- | --- |
| 6/29-7/1 | Hunter Mtn, NY |
| 8/10-8/12 | Bear Valley, CA |
Find out more and see the full schedule at https://pursuit.theoutbound.com/